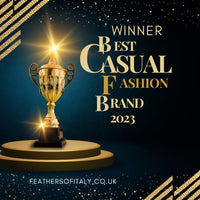 Best Casual Women's Fashion Brand 2023
I am absolutely delighted to announce that my own label clothing brand started from my conservatory table back in April 2012, when I had no knowledge of the fashion Industry, no money, or knew anything about the dynamics of a clothing brand, but with sheer grit and determination I took a risk and pored my life savings which at the time was £330 into my crazy dream. I taught myself along the way a lot of long hours in marquees around the country spreading the word and empowering many women along the way and I have just won.

Best Casual Women's Fashion Brand 2023

Feathers Of Italy has been successful within SME News' fifth annual Northern Enterprise Awards 2023.In case the good news hasn't reached you, I am delighted to confirm that Feathers Of Italy are one of our 2023 victors, and have been awarded - Best Casual Women's Fashion Brand 2023
From all of the team at SME News, we send our warmest wishes on your well-deserved success, and hope the award gives you a great boost throughout 2023 and onward!

Thankyou to everyone who has supported me and bought from me, this just shows anything is possible if you want it bad enough.

To celebrate I am offering 25% off anything on my website please use code WINNER25
Thank you for supporting my small business!
Read the blog
5 stars all the way!

I've bought many things for years and always love the quality of clothes, especially her linen and jumpers. Buy cheap, buy twice I say. I wouldn't hesitate buying from Kerrie, her customer service is 2nd to none.

Carine Mc Clelland
Thank you so much for my 'latest' order! The quality and selection of your products is second to none. So beautiful, look amazing and speedy personal service - love it! (I'll be back.... very soon!). Thanks again!

Samantha Lake
I bought a beautiful pink Florence jumper, which I'm delighted with. Fabulous quality and a gorgeous color. Excellent service as always from Kerrie.

Pippa
Hello, The coat was arrived yesterday. It's amazing, I like it so much. Thanks the fast delivery😍

Bye: Emese Budapest Hungary

Its Time To Celebrate We Now Offer KLARNA PAYMENTS
Its Time To Celebrate We Now Offer KLARNA PAYMENTS So You Can Spread the cost.
#italianfashion #linendresses #fashion #fashionblogger #fashiondesigner #fashionweek #fashioneditorial #fashionbombdaily #fashionjewellery #fashionable #fashiongram #fashionblog #workingmum #italy #madeinitaly #italianclothing #womensitalianclothing #feathersofitalyboutique www.feathersofitaly.co.uk
SHOP NOW
How We Started
Feathers Of Italy Was Born in 2009
Hi I am Kerrie Griffin, Designer and founder of Feathers Of Italy. I  wanted to find a style which was flattering yet comfortable, so I set about searching Europe to find the look I wanted to emulate Casual Comfy Chic! and thats how Feathers Of Italy was born.
I bring you collections of unique glamorous, relaxed, affordable, outfits which will offer you comfort and style and are only available through this website. Outfits which will flatter you and make you feel happy and confident.
We want to put outfits together which suit your body type and suggest new looks to dress your body, to get the best look for you. 
I am very friendly, aproachable hands on Director Of Feathers Of Italy and can be seen in many of the clothes and runs the daily running of the company. Always happy to chat through options on the phone.  Call me Kerrie, on 07500 930207 or email info@feathersofitaly.co.uk