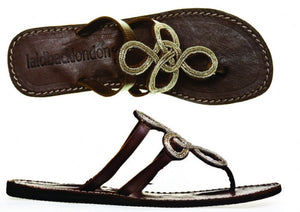 Brand new style with a toe loop.
This style offers great support and versatility.
Leather upper and sole softens up quickly with wear and mould to the shape of your foot.
Lightweight, EVA wedge approx 2 inches at the heel.

This product is handmade by Laid Back London a fairtrade company in Africa by skilled craftsmen and women.
Handmade, using traditional techniques, the leather is cut, dyed and embellished by hand.

Only size 4,5,8 now left in stock